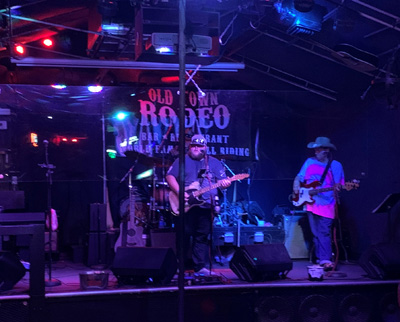 Key West Bar
Hops
The Keep Calm and Hop On Tour
Hops MacBarley's Ongoing
Key West Bar Boondoggle
Hop #331
Old Town Rodeo
618 Duval Street
Friday, February 26, 11:30 PM
Crazy Lady (draught) $7.50
Long time followers will recognize that address.

618 Duval has been many, many things since the inception of these Key West Bar Hopping Tours, and it looks like it will host a few more.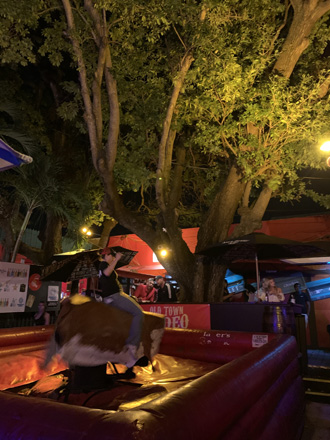 After leaving Fogarty's (#329), I went walkabout.

I stood on the sidewalk with 100 other people, outside the jam-packed yard of Hank's Hair of the Dog Saloon (#307), and watched for about ten minutes as Rob Benson put on his show.

I was standing on the gnarled, protruding, bumpy root of the old tree there, though, so I could see over people's head, and my feet were grousing about it.
So, I went meandering again.

Duval Street is a tremendous place to meander.

I wanted to scope out what new places I might not have seen yet, and I had a hunch this address might come through.
If you're not familiar, the main attraction of #618 has always been the big western bar, with the large stage, dance floor, bull-riding pit, and satellite bars.

It was Cowboy Bill's Honky Tonk Saloon (#8) back in the day.
One thing I always liked about it was that you had to walk down this long blank, whitewashed alley to get in there.

It's between #610 and #612 Duval.

This alley gave the place a real mysterious, in-the-know kind of atmosphere.
Well, it was even more pronounced this time.

I think a streetlight must have been out because it was unusually dark at the mouth of the alley.

There always used to be a sign hanging overhead, but there was none now.

The alley looked totally dark.

I barely saw the young woman standing under the arch, and when I did, I thought she was just waiting for somebody.
I got a couple of shops farther south and noticed the space where Cowboy Bill used to have his street-front bar (at the real 618) was brightly lit, with a sign for Mojoe's Sports Bar hanging over the sidewalk.

Predictably, it was almost empty.

I've never seen this space not "almost empty."

But, hey, if that branch of the 618 complex was open, the main bar MUST be open too.
I went back and said hi to Stand In The Dark Girl (that's her Cherokee name).

There was a 4-foot-high A-frame sign there, which I hadn't seen because she was standing in front of it, and I couldn't read it anyway because it was marked in faint chalk on a black background, and in the dark.
There were lights and a sign way back in the alley and music was rolling out from there.

Somehow, it was much more enticing this way.
I asked SITDG if this was Cowboy Bill's Reborn.

She smiled, "Kinda."
So, with a Why Not? shrug, I proceeded therein.

My second unplanned, unlisted Hop of the night.
To my surprise and delight, the large area was full of people!

They weren't packed in there, but the whole place was populated.

I was expecting about a dozen and I got, I dunno, 100?

They were doing a good biznizz!
I didn't catch the band's name, but they had some high energy country music going on.

This was no crooner band.

They were kickin' it.
It's a good sound system and stage they have back here.

High ceiling, plenty of room for a large band, big booming speakers under the floorboards, an overall nice set-up.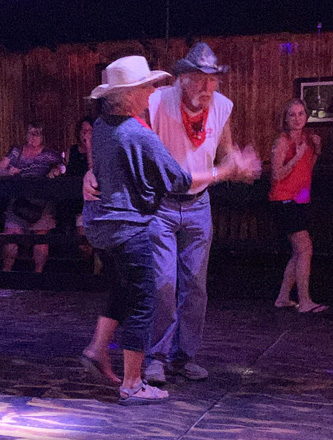 There were some people on the dance floor.

Mostly women, of course.

One of the more senior couples kind of stole the show when they found themselves alone out there: nothing that would win a dance contest, but enough easy dancey moving to get some good attention and smiling approval.
I wormed my way through the tight spaces that led to the bar.

They have a short wall with tables and it's just six feet or so from the bar.

That sounds like plenty of space, but with several bar stools and a few people, it's a bit of a squeeze.
The barkeep brought me a Crazy Lady, a ten, two ones, and two quarters in exchange for my twenty.

Well, I think that's a new Tour record:

$7.50 for a plastic cup of brew.

This Hopping shit is getting' expennnsive.

(Feel free to send donations in the name of research.)
I took my Lady for a walk.

The mechanical bull is still here.

In fact, if you look at this place's Facebook page, you'll see they post under the name of World Famous Bull Riding.

Their FB page advertised $500 in prizes, but it was for the night before.
There was a woman in a black shirt taking the big bad bull through its paces.

She was good at it, though the bull was more dancing with her than fighting her.

Then I saw the word STAFF across the back of her shirt.

Aha!

No wonder she was so smooth at it.

Lots of practice.
She dismounted and another woman – a customer – took her turn.

I had to admire her confidence as she straddled up on that saddle.

She clamped her thighs tightly around it, kept her hands by her side, and roooooode, rocking her hips right in time with it.

It was very erotic and a bit hypnotic, and that was exactly what she intended.
Somebody bumped my shoulder and I quickly turned to see who it was.

When I looked back a second later, the woman was flat on her face and spread eagled on the red padded floor.

Ooops.

Not quite so erotic now, is ya?

Ha.

=)
The last noteworthy aspect of Old Town Rodeo is the men's room.

You have to walk up the ramp and into the, um, concourse (not sure what else to call that awkward room) to find the restrooms.

You also find the entrances to two more bars!
That's not a surprise; those two spaces have been several bars themselves over the last decade.

Two more additions to the Hop List!
Anyway, the men's room's fixtures are unusual, to say the least.

At first glance, I thought I had walked into a stock room.

Then I realized the two 15.5-gallon, silver aluminum kegs I was looking at were mounted to the wall, with their lower fronts cut out.

A drain ran out the bottom and a handle was mounted on top.

Pretty clever, but…
Well, they seemed to be made for people a bit shorter than me.

But I guess that's to be expected.

Taller people can crouch a bit, but shorter people might have to jump up, and that's just gonna get messy.
And the floor was wet as it was…
Ha.

No biggie.

Well worth the story.

Made me wonder what the hell is in the ladies room.

=)