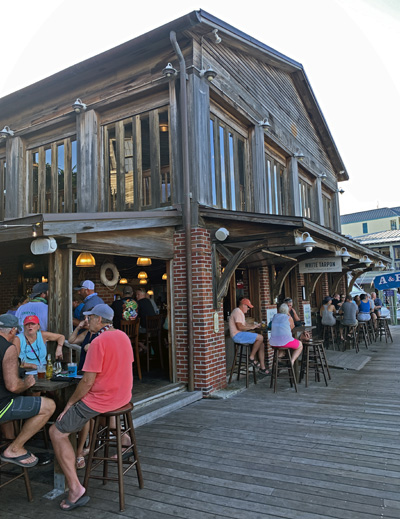 Key West Bar
Hops
The Keep Calm and Hop On Tour
Hops MacBarley's Ongoing
Key West Bar Boondoggle
Hop #332
White Tarpon (relocated)
700 Front Street
Saturday, February 27, 4:30 PM
Crazy Lady (draught) $3.50 HH
As I see it, this was one small step for the location, one giant leap for the business.
Right.

This whole Tour schtick is "as I see it", right?

Ha.

Anyway…
White Tarpon did not move very far -- less than 100 yards from closest point to closest point – but they moved from a discreet recess to front-and- center.

This location is Center Stage of Key West's Harborwalk.

Their last site was tucked back in the corner, under the large brick overhang.

I walked right by it hundreds of times before I knew it was even there.

If Jack hadn't gone to work there, I might never have found it.
That location was sprawling, though.

They had a deli, their social bar (#31), and a large patio bar (#185).

I kinda liked that in-the-know location, but when the tourist crowd is your desired clientele, it's better to be in-your-face than in-the-know.
And this spot certainly is that.

Most will still recognize it as The Boathouse Bar & Grill (#58) and might not even note the change until they have been seated and served.
No point in changing the exterior; it's a great looking place and wide-open enough to just drawww people in.
No point in changing anything about the bar; it's plenty big enough and set
up really well with that opening in the middle between the brick columns.
No point in changing anything about the interior; the brick-and wood décor and overhead shell lighting is a really good look.

All the nautical flags are gone, of course.

I'm speculating that they will show up in BBG's new location.
AND one key thing that White Tarpon did not change is HAPPY HOUR!

This locale has been known for years as one of the best Happy Hours in Key West.

As I see it (ha), it was the best.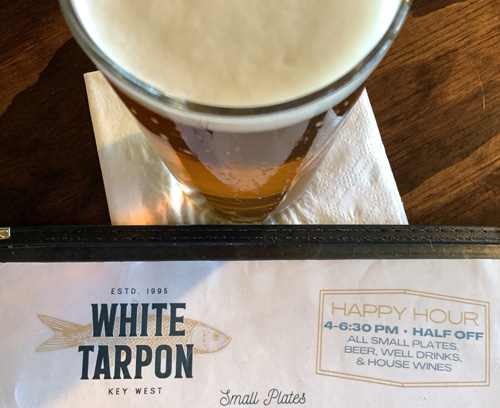 So, I was very happy to see, as I strolled on in here on a gorgeous, sunny, breezy, 85-degree February afternoon, that HH was still alive and well:

half-price drinks and half-prize "small plates", 4-6:30 every damn day.

Yessir!

Sign.

Me.

Up.
Note that drinks are "half price", not 2-for-1.

I like this better.

If you have two drinks, it works out the same, but if you are just here for one, you get a sweet bargain.
Pincher's Street Bar (#203) has 2-for-1 from open to close.

That's great, but B&J and I used to close out our nights by walking up to the 700 block to see Stephanie and have "one more."

Ya, I think you see the naïve flaw in that plan.

Some nights, I really only wanted one more.

That 12 ounce of draft IPA was the perfect nightcap.

BUT, how the hell can you walk out when you have a freebie coming??
So, here at the new White Tarpon, half price is nice, and I ordered a $3.50 Crazy Lady and a $6.25 order of wings.

My bartender was a slim, dark-haired woman, late-20's maybe, with a nice edge to her.

She asked me what flavor I wanted my wings.

For a second, I was like "Flavor?

Like chocolate?" and then I caught her drift.

She was saying "BBQ, Buffalo…" and I gave in to my subliminal thoughts and said, "Naked, please."
She grinned, "Naked it shall be."

I was hoping she'd start a sexy striptease, but, well, wrong bar.
Regular prices would have been nothing special, just typical KW premium stuff, but given the prime Harborwalk location you'd be a fool to expect anything less.

And that just makes the Happy Hour all the more precious.
I got here at 4:45 and found a few empty bar stools in the back corner.

This is always the last space to fill up.

I had two empty stools to my right, and three wrapping around the corner to my left.

Within ten minutes, all were taken.

It's not claustrophobic back here, even when crowded, because there is no side wall, just open air and a knee-high rope.

Might be a little dodgy in a downpour, but no such worries this day.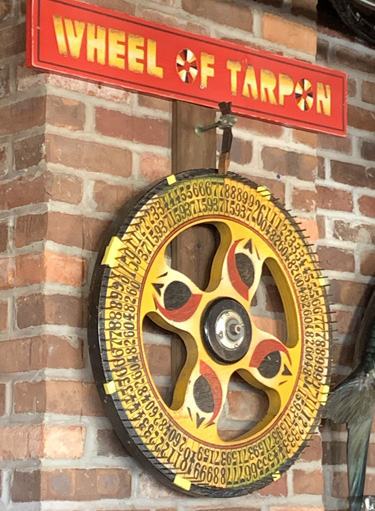 There's a big wheel on the wall at this back end of the bar.

The WHEEL OF TARPON.

Some sort of spin game.

It has a LOT of pegs and numbers.

I gazed at it for a while, trying to discern the pattern: odds in increments of 4 in opposite quadrants, evens in increment in the other opposing quads, with each opposing pair off by 2 from the other.

"Compass points" were large numbers:

159, 26, 37, and 18.

I could not figure it out, and, apparently, the staff doesn't know either!
Twice while I was there, a tall, older guy with a white ponytail and a blue doo-rag walked up, gave it a loud and hearty spin, loudly called out the number, received no reaction whatsoever from anyone, and moved on.
My wings arrived, accompanied by plastic ramekins of bleu cheese and jalepeno cheese dip.

I had no use for the spicy latter, but I did enjoy the former.

Six wings comprised my order.

I didn't really expect 10 for $6.25, but I was ehh-okay with a half-doz.

They were meaty and yum, so all was well.

That will become my go-to HH snack here.
The White Tarpon's relocation here was just one move in what was a notable shuffling of the deck.

Every now and then KW plays "bar chess" as a certain site becomes available and others vie for the location upgrades.
I'm not sure what the chronology of this was, but these, basically, were the moves:
Wahlburger's outbid White Tarpon for the lease on their location

White Tarpon (#31 & #185) closes

Turtle Kraals (#88) closes their doors

Commodore Restaurant (#183) closes their doors

Boathouse Bar & Grill (#58) moves into Turtle Kraals spot

White Tarpon (#332) re-emerges where Boathouse was
Something like that anyway.

The shorthand version is that corporate Wahlburger's came in and locally-owned, long-time icon Turtle Kraals went away.

Just another slice of Key West character snuffed out.

Sad to watch the process play out.
The Tarpon ended up a big winner, though:

more compact, less wasted space, and much more in the flow.

Great leap indeed. They should thrive here.