Key West Bar
Hops
The Keep Calm and Hop On Tour
Hops MacBarley's Ongoing
Key West Bar Boondoggle
Hop #333
Pho King Awesome
626 Duval Street
Sunday, February 28, 4:20 PM
Crazy Lady (draught) $5.91
Google tells me that Pho is a style of soup that is the national dish of Vietnam.

It typically consists of bone broth, rice noodles and thinly sliced meat.

Well, I'll be.
And, apparently, these guys are the King of it.
Their website says that they do quite a variety of other Asian foods as well, and that they do dine-in (bar or table), walk-up, and take-out via phone or internet.

They also deliver!
Right.
So much for the restaurant, this is a Bar Tour.
Pho King Awesome is also a Sake Bar.

It says so right on their sign.

It's also says Noodle Bar, but I'll ignore that for now.

I ain't drinkin' noodles.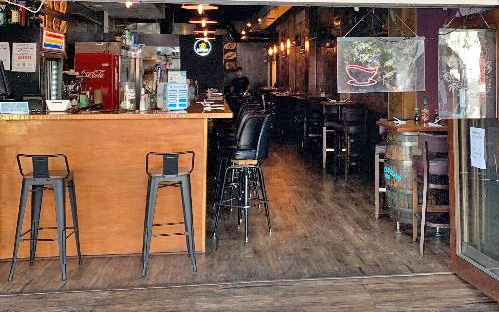 I have to admit that the name is what jumped this establishment right into the mix.

I saw it last
night and had to Hop it.
At first
glance, I had thought "restaurant all the way", but as I passed, I saw the unmistakable shape of a bar, and a large one at that!

The bar, in fact, dominate
s the room.

It is long, high and nicely polished wood.

Great Bar!
The seats are tall and p
added with curved backs. Big thumbs-up from the Hopster.
There are tables along the wall and down through the na
rrowed mid-part of the restaurant, and more in the back where it widens out again.
The hallway tables are pretty cool too:

polished wood tops sitting on large wooden barrels.

And
each one can seat as many as six.

Probably more if they sit on one another's laps.
A lovely young woman took my drink order.

I was prepared to do a Sapporo or a Tsing Tao or some other Far Eastern brew, but the last tap I saw said "Crazy Lady" on it, and I decided to stay local.
Turns out that the beer selection is wider than I thought.

The fridge behind the bar had a good dozen or more beers in bottle or cans, and, of course, a couple of flavors of White Claw.
She brought me a menu, though I had already said my usual, "Just here for a beer."

The menu is on the wall anyway, and even easier to read up there.

I asked how much I owed, and she said "$6.00."
I have officially reached the point where I think of $6 for a draft beer as a decent deal.

Sigh.

I gave her seven and thanked her.

And it was actually only $5.50, but tax made it $5.91, which, sensibly rounds up to $6.00. They could change their selling price to $5.59, to round it up evenly with the tax, and make an extra 8 or 9 cents per pour, but this way the server gets it. Hey, sell 100 beers and you make $9 more in tips!
My Crazy Lady was hitting The Spot.

I had been tooling around the island on Trekko The Wonder Bike, so The Spot was large and a cold splash was just what I needed.
I was only here for about 20 minutes. A few people came up to the front counter and ordered some food to go.

A couple of guys sat to my left and ordered food to stay.
It wasn't much business, but it wasn't exactly dinner time either.
The tunes were dance-club-ish, but mellow-ish-dance-club-ish. There's probably a word for that, hm? The big video screen seemed to be in synch sometimes, and other times not.

At one point, there were three very good-looking young women dancing seductively up close to the camera and three guys in the back of the room dancing like guys.

It was pretty funny.

There's not a heck of a lot else to say about Pho King Awesome. The name is catchy, you have to admit. The town I grew up in would never have allowed this name. They didn't even allow bars! Trying to keep the youth from turning to demon alcohol. You see how well that turned out. =)

So, this was Hop #333.

One third of the way through The Keep Calm And Hop On Tour, and one-third of the way to … 1000 BARS!

Another 15 years oughta do it!