The Keep Calm and Hop On Tour
Hops MacBarley's Ongoing
Key West Bar Boondoggle
Hop #340
Friday, 19 March 2021, 10:40 PM
Elysian Space Dust IPA (bottle) $7.52
217 Duval is open again! As you walk up the along the sidewalk, you see the big white two-story house lit up, the big red awning in place, the large red umbrellas deployed over the patio tables, and you hear the entertainer!
AJ is on guitar tonight and he's singing up a happy selection of tunes for the fairly full patio, and, even more importantly, he is capturing the attention of the passers-by and drawing them in for a drink and, hopefully, a bite.
He is as far forward as he can possibly be. If he slips off his seat, he will impale himself on the wrought iron fence. But here, you can't miss him. He can interact with the crowd, both inside and out, letting everyone know that Stinkin' Crawfish is here so come on innnnnn.
It didn't work with me, though. I was comin' in anyway. This was not an impulse visit, snagged in mid-walk-by and captured by AJ's siren's call. No, indeed. This was my decreed destination, my Friday Night Hop.

This part of Key West's liveliest block has been a black hole since the pandemic shut down Lucy's (#303, #306, #316) next door and sounded the death knell for Loose Cannon (#321). Lucy's has just recently partially reopened, but Stinkin' Crawfish gets the credit for putting the lights back on in this mid-block void.
This chain is big in L.A. There are ten restaurants operating under this name in Greater Los Angeles. Now, that is a large area, so it's not like cramming 10 into Key West. Greater L.A., aka The Southland, is bigger than the state of South Carolina, and is home to 18.6 million people. Still, ten restaurants thriving in a city that size is quite an accomplishment.
There is another in Flagstaff, AZ. So, then next logical expansion would be to… ohhh, I dunno, spin that wheel … Key West!
Stinkin' Crawfish has made its name on food, of course. It's a Cajun Seafood restaurant. But this is a Bar Tour, so I'm not gonna talk about food at all. Well, OK, maybe a little, but later.
The address has already seen multiple Hops over the years: Cheeseburger Key West (#173), Johnny Rockets (#221), Gas Monkey (#263, #277, #294), and The Rooster Tale (#317, #318). The 200 block can be a tough territory. Most people identify this block with drinking and entertainment. It is not what leaps foremost to mind when tourists ask, "Where should be go for dinner?"
So, it might take a little while for that part of the business to get cranking. In the meantime, the almighty alcohol is going to have to be a big part of the experience. If the music brings them in, get 'em drinking.
And that's exactly what I was here to do.
I strolled in among the tables and in the small front door. There's a bigger door along the side of the building, but this one has more of an in-the-know, wink-wink feel about it.
I had almost hopped this bar about three weeks or so ago. It was one of their very first nights. Like most bars, eager to start taking in money after watching so much of it go out and out and out, they did not have everything totally set. The food was coming out, the drink were getting to the tables, the music was playing, and people were at the tables, so the major elements were there.
But the bar definitely was not done yet;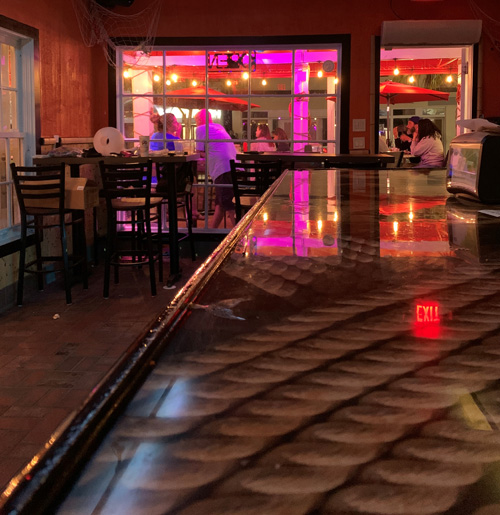 it needed a good bit more cookin'. There were no seats, the bar top was covered with electrical gadgets, lights, stacks of paper, and miscellaneous food and bev items.
I asked the barkeep about getting a beer and she said there was no draft yet, and hemmed and hawed as if she wanted to say, What are you even doing in here, dude? Can't you see we are not ready for you? I laughed and said, "No worries. I'll be back."
So, here I was! And the bar looked more than ready. It was cleared off, for one thing, there were quite a few seats, and the usual napkin dispensers and drinking straw holders were in their proper places. The table in the corner still had some stuff all over it, but, hey, my bar was ready for me. I took a seat in the middle and made ready.
I had looked in a couple of minutes before and the bar was full. I was going to did AJ for a bit anyway, so no hurry, but when I did make my entrance, everyone had cleared out.
As I sat down, I jokingly asked the bartender if he had kicked them all out. He was tall and slender with a Middle Eastern look about him. He didn't know what I was talking about. I just let it slide.
I looked for the beer taps and saw none. Hm. There were booze bottles on the shelves, but not the standard line-up of bottle and can samples on display for your perusal. I had heard AJ refer to "specialty cocktails" and I started to fear they might not have beer, dear.
My barkeep allayed my fears by pointing at the menu he has slid my way. I had assumed it was about food and was thus ignoring it, but it was, in fact, mostly a drink menu. It had colorful pictures of an array of specialty cocktails and the labels of all the beers they had available in bottles.
I spied the Space Dust and made one my own.
One of the servers came in and called out to him, "OK, I have another offbeat one for ya." He rolled his eyes. "Two Mind Erasers. That's vodka, Kahlua, and a splash of soda." She seemed to have familiarity with the concoction, but it was new to him. He did have the vibe of someone new to the profession. No slight there, every barkeep starts somewhere, and a just-opened place is bound to have some newbies.
Now, it's been years since I was behind a bar, but I remember this drink well. Bartenders usually like it because you get to show off just a tiny bit. Whereas many two-liquor drinks are just tossed into the mixing can and shaken (or stirred) with ice, this one is meant to be layered. The ice goes in first, then the Kahlua. Then the vodka is poured slowly over the ice, so that it does not mingle with the Kahlua. Then the club soda is added the same way so that there are three distinct levels. It's not too showy, but enough to demonstrate that you know how to build the proper cocktail.
It's meant to be slurped down all at once through a straw, so the three tastes hit you one at a time, often followed by a brain freeze.
He poured the two boozes into the can, with the club soda, and began to shake. At this point the server looked back up from her tray and nearly screamed, "No, don't shake it!!" He stopped on a dime. "You have to layer it." He gave her an exasperated look that seemed to say, Stick to the damn drink menu, willya??
I was a little disappointed because I have seen carbonated fluids put in a shaker before and hilarity often ensues. But she saved him from a frothy fate. I'm sure he had learned all the cocktails on the menu, but leave it to the public to play stump-the-barkeep when you're new on the job.
I busied myself doing whatever the hell it is that I usually do, and then saw another drink scenario unfolding to my left.
A jacketed man came in from a large table outside to order up a round of even more off-the-menu specialty drinks: Irish Car Bombs, 7 of 'em. My Middle-Eastern bartender deferred to a less-tall, slim man of Asian descent, who was On the Case. He set out the 7 large beer glasses, and the 7 shot glasses, pulled out the Jameson and the Bailey's for the layered shots, and opened 3 tall cans of Guinness and half-filled the large glasses.
A few people came in to lay claim to theirs, but either someone wussed out or they had counted badly because one went unclaimed. Jacket Jack gestured to the barkeep to do with it as he saw fit, then turned to his compatriots. They tapped the shots on the bartop, lifted them and dropped them into the half-full Guinnesses, let 'em blennnnd for a second, then guzzled 'em back. Ahhhhhhh.
I smiled and watched because I wanted to see how much this round was going to cost. Jack had a c-note in hand, and I was thinking, yeahh maybe. I had in mind the time at Lazy Gecko (#2) when a patron ordered up a round of 11 Mojitos – a labor-intensive drink for sure – and stood there clutching his $100 bill while Lindsay made them. She eyed him warily, just a baby step from growling, as she worked her way through all the muddling and mixing. In those halcyon days, beers were $3, but Mojitos were $9. I had my eye on the single bill and waited for the clash.
One of the group tried to reach for a drink before they were done and Lindsay smacked his hand hard with the bar spoon and sneered at him. He cowered back, clearly shaken.

As she finished, and began to insert straws, she announced to money man that the total was $99. She looked straight at his hand and shook her head, like, Don't you even THINK about it." He caught the vibe and collected some more cash from his cohorts, pronto. With $120 safely in hand, Lindsay smiled and released her creations.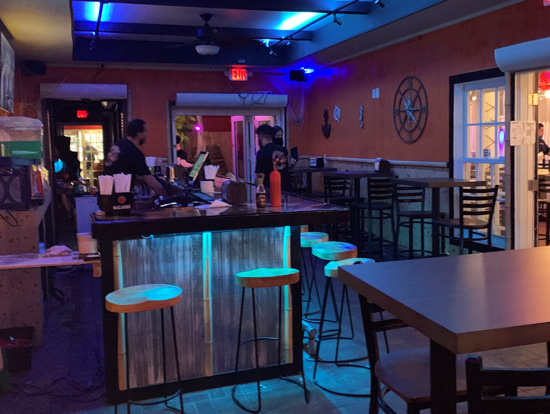 Here, tonight, I was trying to calculate what an Irish Car Bomb would cost. The menu in front of me listed their specialties as $9-$12. I listened for the total but couldn't hear. I watched for the pile o' change and saw a couple of ones and at least one $20 bill.
Jack swooped it up, said loudly, "That is very reasonable!" and saluted his barkeep. I got the feeling that he had given Jack a good deal as thanks for running up a big dinner tab.
They went back to their table and barkeep tidied up. He stood there as if waiting to see what would happen next. As it turned out, I happened next.
I asked him, "How's business been? You guys getting everything settled in OK?"
A good convo followed. His name is Jay and he is from L.A. I asked if he had ever been to Key West before and he said, "No, and I never owned a bar before either!" Well, that got my attention.

Apparently, his partner had come out here to check the place out, thought it was awesome, met with the owner (who came down from Miami to meet him), made a better offer than any other interested groups, and before you could recite all the Dr. Seuss books backwards, Stinkin' Crawfish was on its way to the Eastern Time Zone.
I welcomed him with enthusiasm but I wondered if I should say anything about the previous tenants. Before I could, he said, "I know a few bars have failed here, but once people check out our food, they'll come."
He talked openly about the cost of doing business on Duval: the high rent, the "army" of workers to pay, the entertainer ("but he pays for himself by bringing people in"). I joked, "Wait till you get your first electric bill!" He laughed and nodded knowingly. I got the feeling, too, that it was good to have the successful chain backing this enterprise.
I told him about the Tours, and that this bar was Hop #341. I've begun the practice of leaving souvenirs of my Hops now. Jay was a good dude, so I gave him the works: the card with the web address, the collector's item Barhoppin' Bone Island (BBI) bottle cap, a BBI pen, and a bottle opener bearing the full-color BBI logo.
In return, he wanted to take my picture and put it on the wall next to the bar. I saw some small things that looked almost like baseball cards over there. He came back with the odd-looking, oddly-colored gizmo. It seemed to have a lens, but it looked bloated. He opened the side and tried to insert something, but things were not fitting. I had to ask WTF it was.
"It's a Polaroid camera!" he proclaimed. Whoooa, I thought they were extinct. He pointed at the pictures hanging on wall. Oh, mann, now I was wishing he could get it to work. But instead, he took out his phone and snapped my pic.
I told him that the key to making it here was to take care of the locals. He lit up. "Twenty percent local discount!" he announced. And told me that Happy Hour is 3-6 on weekdays, with $1 oysters and $1 chicken wings. I saw that on the menu. For the wings, it said "6 min". I wondered, "Six minutes? Huh?? You get six minutes to eat them??"
"No," he laughed – he said "no", but I heard "no, you dumbass" – "the minimum order is 6". We don't want people ordering one wing."
Then a thought occurred to him. "You need a dessert! You get a free dessert! Ice cream and (I couldn't understand what he said went with it)." He went off to the kitchen to get me one.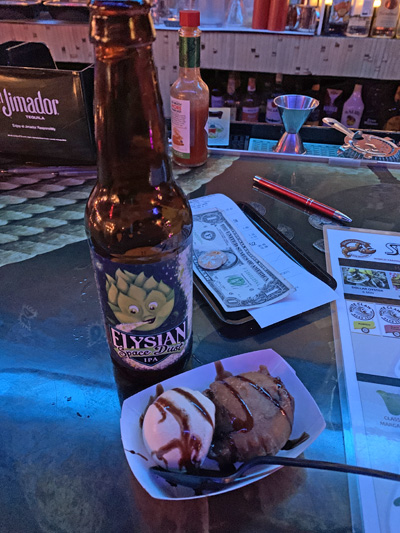 He came back with a cardboard bowl and plastic spoon. The Bowl held a small scoop of vanilla ice cream with a drizzle, and something that looked like a Dunkin Munchkin. He eagerly gestured for me to try it. With a hey, free food shrug, I chomped into the Munchkin. It was delicious! My grin made him grin too. I asked what it was.
"Deep fried Oreo!"
I had to laugh at that, but it was great. So was the 'scream.
Jay went off to attend to some business and I attended to the last swig of my Dust.
When he came back, I bid him good night and good luck. We did the COVID knocked-elbows "handshake" and I told him I'd be back and that I would spread the word.
Word now, officially, spread.