The Keep Calm and Hop On Tour
Hops MacBarley's Ongoing
Key West Bar Boondoggle
Hop #342
Saturday, 27 March 2021, 11 PM
Crazy Lady (draft) $7.50
This has to be the most secret bar in Key West. You cannot access it without going through another bar. There is no outside signage, except for maybe a hand-scrawled thing that is too-easily overlooked. And it has gone through a few-or-more name changes in the last several years. (List posted at end of Hopter.)
But here I was, on Saturday night, mulling Hoppage. I had napped through the afternoon Hops that I had on the list, and I blanked on the early evening Hops on the other list, but I took a stroll down to Duval to see what was going on. Spring Break has been relatively tame, but there might be some good sights to see, y'know? Pretty young women, stupidly drunk young guys, it all entertains.
I found myself on the 600 block, walking by the gaping, unlit, unmarked and unmanned alley that leads to the cowboy bar, and I heard the world's softest barker – standing by the curb – saying to noone in particular, "…karaoke club too…" as I walked by.
I remembered seeing Jam Pony on my way to the rest room in that deep mysterious recess between Old Town Rodeo (#331) and Mojoes Sports Bar (#343 – foreshadowing, a proven literary technique), and I thought, "yeah, might as well do it." My zeal was low, though, because previous failures in this location had led me expect an empty shell, and I was not up for a deflating Hop, Pop.

But, what the hey, I walked down the alley, squirmed through a very crowded country bar, stepped up the ramp into the foyer (I'd not sure what to call that weird room), and angled to the right into Jam Pony.
Wow! It was full and alive! The only time I had seen this space with more than ten people in it was the night they did two hours of free draft beer for the Grand Opening of Cowboy Bill's Sports Bar (#178). This time it was full of paying customers!
Catching the vibe right away, I brought my new enthusiasm to the only remaining bar seat and ordered up a Crazy Lady from the young dark-haired woman with the big tats. (No, Brian, that says "tats" for tattoos. Down, boy.)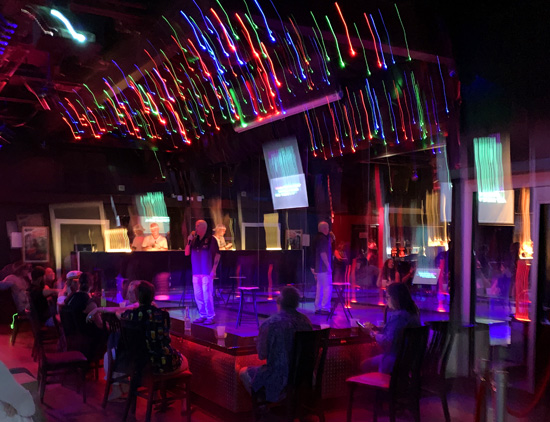 It was between-singer time, so I gave the place a good look-over. The stage was huge, like they were expecting choreography along with the vocals. Then I remembered that Double-A had told us a while ago that this space had become a strip club for a while, so the stage – and the single row of seats along its edge -- made more sense.
But, as it turned out, it did work great for karaoke. When the singers did get up and perform, they moved around with the mic, and interacted more with the audience. Some places pretty much stand you in one small spot at the mic stand or sit you on a chair. Two Friends (#26) is a well-known karaoke hot-spot, and whenever I walk by, the singer is in the exact same place on the tiny stage in the corner of the room. Here, you can let your mooooves express your mooood and put on a show.
The first singer – wearing a wide-brimmed hat reminiscent of Jed Clampett's – did a respectable job on Arlo Guthrie's City of New Orleans. It suited him and his country air. I think he might be an employee, though. Often the karaoke provider is/has a singer who can sing OK just to get the crowd in the mood to join in.
Myself, I have done karaoke only once. It was on a roadtrip around the turn of the century, and I was driving north from Florida through Georgia. As sunset was finishing up, I found myself in the town/city of Tifton, with an appealing-looking pizza restaurant on my right.
I pulled in to the almost-full parking lot and was lucky to find a seat in the almost-full dining room. It was a tiny two-top table with one chair missing, perfect for a solitary stranger like myself. I had on my black cowboy hat and a couple days' worth of road shab, so a seat in the back corner was exactly my style on this night.
I ordered a beer and a small 'za, and watched with curiosity as this room packed with what had to be 100 people just sat at their tables while, basically, nothing happened.
The Karaoke Kid (ha, "kid" – he was about 35) did his part, plying his mediocre singing voice to a couple of sample songs, but he finally decided to have a seat and wait them all out.
So, we all listened to three or four instrumental versions of tunes that everyone knew, and watched the lyrics roll across the screens, but nobody would leave their seats.
"This is fucking stupid," I recall thinking, and grabbed the song menu. Comfortable in the fact that I did not know, and would never know, anyone in this place or city, I picked out a song and rallied forward. I was vaguely aware of murmurs to the effect of Who the fug is this guy? among the roomful of locals.
But I spoke to the relieved Kid, and he cued up my song. With hat, shades, and seedy demeanor all in place, I lit into my best rendition of Like A Rolling Stone, complete with Dylanesque dialect.
The place came alive, partly because people began scrambling to turn in their own tickets, thinking, hell, I can sing better 'n that!
I got some applause, and some more distrustful looks as I returned to my table where my beer and 'za were waiting. The on-screen list of upcoming singers grew longer and longer as I ate.
Then, with food, beer and duty done, and the knowledge that the Carolinas were not gonna come to me, I exited stage left. Kid gave me a grateful nod as I passed.
(Foreshadowing and flashback in one Hopter. Y'all are gettin' yo' money's worth tonight.)

So, that kind of thing might have been happening here at Jam Pony. It seemed like a lot of singing had probably been going on, but there had been a lull and Jed had had to fill it.
They took advantage of the pause to bring a couple of shots to a newlywed couple (!) sitting in the front row, and we all toasted them.
Then the stars of the night took the stage. Two ex-Navy pilots from Minnesota who had not seen each other since the day they left the Navy 35 years ago, hit the stage together to sing – what else? – You've Lost That Lovin' Feeling by the Righteous Brothers.
Ya, just like Maverick and Goose in Top Gun. But different. The crewcutted Goose was doing the singing, and the short, not-so-good-looking Mav did backup vocals. And they were both pushing 60. And they were not in dress whites. And they were not hitting on Kelly McGillis.
But, hey, Goose could sing! Good tone, good range and not shy about volume. They earned a good round of apple sauce. (I was typing some of this on my phone and I mucked up "applause" bad enough that auto correct gave me that, so I accepted the correction.)
My beer was done about the same time Mav & Goose were. A bald gentleman was crooning Bob Seger's Turn The Page when I initiated my departure sequence.
I left big-tatted barkeep a BBI card (with Hop #342 on it), a BBI bottlecap (with Hop #342 on it), and a BBI pen.
The bar half of the room was pretty dark, so I'd bet anything that she just tossed the cap and card in the trash and jammed the pen into the cup next to register. Maybe someone will read it and/or steal it someday.
Bald Bob was actually pretty good, and I could have stayed to listen, but I had some foreshadowing to fulfill…
Previous Hops at the 618 Duval complex:
8 Cowboy Bill's Honky Tonk Saloon
126 Six Shooter Saloon
127 Fat City Monroe Parish
139 Church Bar
140 Rose Tattoo
193 Levity Lounge
206 Sea Dog Tavern
229 Hen & Hound
243 Cowboy Bill's Patio Bar
253 Rum Runners
256 Ocean Blue
331 Old Town Rodeo
343 Mojoes
That's a baker's dozen, if you include Hop #343 which has happened in reality but has not yet happened literally (i.e., expressed in letters – thanks, Merriam-Webster).