Key West Bar Hops
The Keep Calm and Hop On Tour
Hops MacBarley's Ongoing
Key West Bar Boondoggle
Hop #343
Saturday, 27 March 2021, 11:30 PM
Crazy Lady (draft) $7.50
Despite the foreshadowing in Hopter 342, I almost did a walk-through-and-save-it-for-later. That was the plan.
There were some people at the bar, as you'd expect on a Saturday night (albeit kinda late), so there was no fear of drinking alone (not that I've never done that). I was just in single-Hop mode this particular night.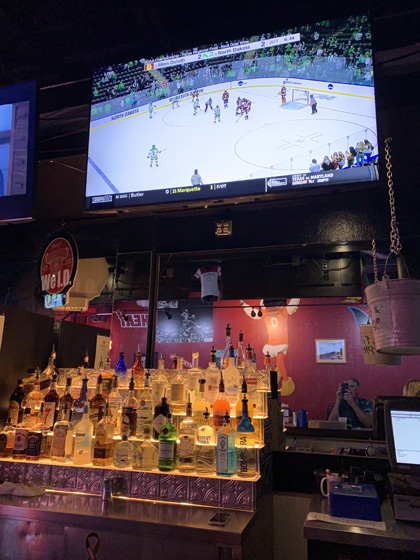 Mojoes showed promise, though, so I was just gonna walk on thr-- … Heyyy, look at the picture on that TV. That is the sharpest picture I have ever freakin' seen. Those green-and-white hockey uniforms look amaz--- Whoa, double-overtime! OK, I'll have me a beer and see how it ends.
Hence, we have Hop #343 after all.
The top-ranked North Dakota Fighting Hawks (green-white) and defending NCAA Champion U of Minnesota-Duluth Bulldogs (burgundy-gold) were deadlocked 2-2 with 12:00 left in the second OT. I was eager to see some dramatic college hockey, but I ended up watching almost none of it.
As I was taking my mid-bar seat, I overhead the mid-20's guy to my left telling the young blonde barkeep about some Masshole that he hiked with, and how it took him a while, but he eventually got used to the accent. When Jade (the barkeep), turned to me to take my order, I poured on the Beantown dialect, "I'll have a beeah, please, wicked cold."
That got a convo started, mostly between Sully (he said his name was something like that – I didn't hear it and didn't want to say "what?" when I knew I could just make up a name anyway) and me.
He's an ex-Marine outa Michigan, who spent six months hiking the Appalachian Trail with a few guys. He had plenty of stories about weather, weed, and black bears. They were interesting tales, so the best I could do was sneak an occasional peek at the hockey game.
Eventually, Sully paid his tab and went walkabout, so I was able to refocus. I had no specific interest in either team – though ND's uniforms looked sharp; I just enjoy watching hockey.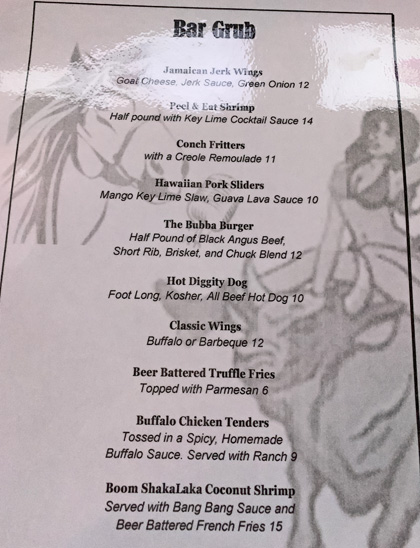 Mojoes has about 10 TVs, with half of them over the bar, and they have padded, curve-backed bar stools. Nice.
For the second time in three Hops, I found myself pleasantly surprised by the prices on the menu. I guess, though, you can't charge a real lot for something you are calling "Bar Grub." Ha. Burger and fries for $12. Sounds OK to me!
There's a pic of the burger on their Facebook page and it looks tasty. Decent size but not huge. Eight ounces, same size I cook on my grill at home. That's perfect. It's not an all-you-can-eat contest. Ya gotta leave room for beer, right? I'll try one next time I'm here and let y'all know how it is.
Mojoes seems like a pretty good sports bar! TV's, food, beer, comfy seats, several booths, some wall decorations. What more do you need? Being a block away from Jack Flats (#48) definitely does not help their cause, but if they play it right, publicize some specials and woo the locals, who knows?
Well, overtime #2 ended without resolution. I figured I'd walk home and maybe catch the end of the game on telly there. I chatted briefly with Jade, filling her in on what that BBI bottlecap was all about, and headed on out.
I could've stayed but, I dunno, something was telling me It's Time…
Addendum:
The Bulldogs prevailed in FIVE overtimes. 142:32 of playing time, 6 hours and 10 minutes of elapsed time.
Scoreless through two periods, MD tallied twice early in the third and held a 2-0 lead late when UND pulled their goalie and scored two of their own, the game-tying goal coming with less than a minute left.
Then they played another full-game 0-0 tie, and then another scoreless period before MD finally won it.
In a cruel tease, Minnesota-Duluth had scored in OT and were carrying their celebration into the locker room, when the review showed the play to be offside. The teams came back out and played another four periods.
Oddly, the win brought the Bulldogs record to just 15-10-2, yet they advance to the Frozen Four over the 22-6-1 Hawks.
Not that I saw any more of it. By the time I got home, my mind had moved to non-hockey stuff, and when I did think of it, a good bit later, I figured, ehhh, it's gotta be over by now anyway. Probably wasn't.
It was the longest game in the 74-year history of the NCAA Hockey Tournament, and I can say I watched (a few minutes of) it.