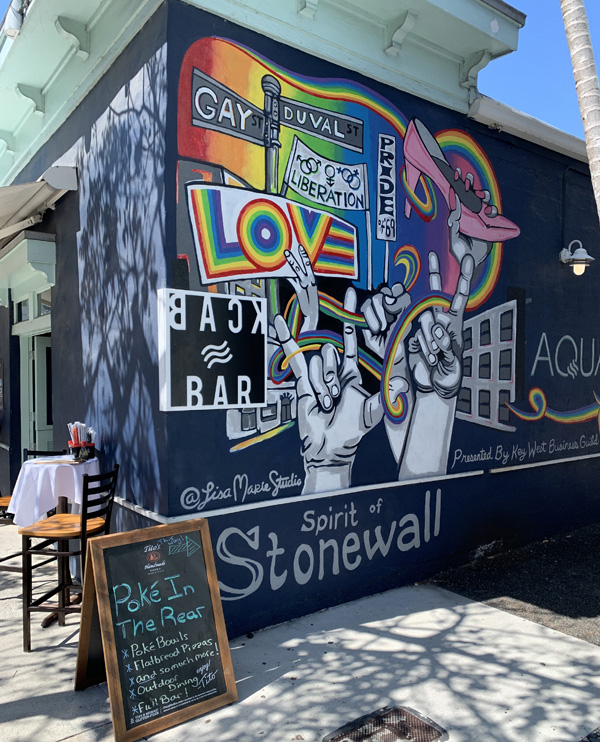 Key West Bar Hops
The Keep Calm and Hop On Tour
Hops MacBarley's Ongoing
Key West Bar Boondoggle
Hop #346
Poké in the Rear
504 Angela Street
Saturday, 10 April 2021, 3:20 PM
Founders All Day IPA (bottle) $7.00
I got drawn in. Gorgeous sunny day, deliveries delivered, couple hours left on my parking pass, I found my mind drifting Hopward.
I still have a list of unhopped bars, some brand new, and some surprisingly old (and somehow missed along the way). Surprisingly also, this one was not on that list. Yet another gap in my scouting vigilance.
This location has been hopped before – twice, in fact – but not under this address. Twilight Bar (#166) was one of the first of the backyard projects of Aqua Nightclub (#96) to be hopped, and Back Bar (#205) was an almost identical layout with extended hours. Aqua then expanded north with the opening of Side Bar (#268), a music and dance type of venue, but with an Angela Street address.
Poké In The Rear shares that 504 Angela addy with Side Bar. You may think it would be more prestigious to boast a Duval Street address, and you might be right, but it is also probably more expensive.
I don't have facts and stats to back up that claim – though that has never stopped me before – but the guy at Lobo's Mixed Grill (#136) told me that their similar down-the-alley-from-Duval location went by "5 Key Lime Square" and it saved him a bundle.
What used to be a fenced-in yard has been opened up. The fence is still there, but the open double-gate welcomes you in, through the parking lot, from Angela. I saw the open gates as I walked by earlier while I was doing my delivery run, and it must have planted a seed.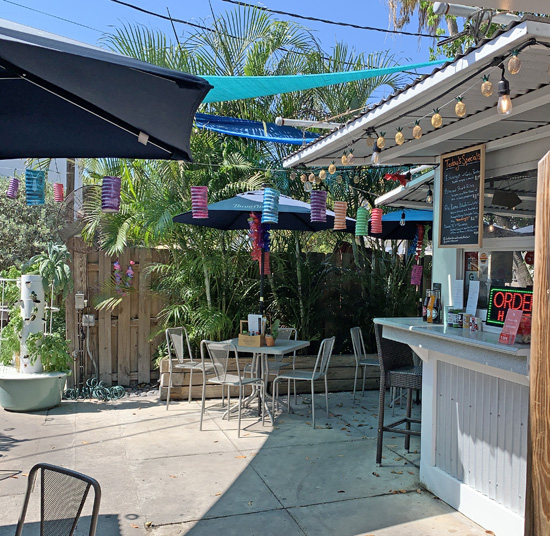 But it was the Spirit Of Stonewall mural that really grabbed me. That is so well done. I paused to look at the details and thought, "Well, since I've come to a stop…" and turned down the long alley that is Tabby Way towards the wooden gate of Poké In The Rear. Inertia can be so fickle.

In classic Hops style, I arrived well after any lunch business there may have been and well before any supper business there might be. When I walked in, I was the sole patron. The barkeep/cook was surprised to see me.
Poké is food, of course. The accent on the e keeps the bar name from being blunt gay humor. This way, it's clever gay humor, which is acceptable. Key West has cleaned up its ways quite a bit even in the two decades that I've been here (and it was already considerably cleaned up by then), but the island hasn't gotten all prim and proper, yet. If some posh biatch gets her panties in a bunch over such an oooh vulllgarrr phrase, well, then lighten up, you d-bag, it's Key Freaking West, not Boca Raton.
I sure I've never had poké. Google tells me: "Poké is diced raw fish served either as an appetizer or a main course and is one of the main dishes of Native Hawaiian cuisine." Raw fish, hm? Not exactly my cup of beer. When I heard "Hawaiian food", I thought, hey, I like Hawaiian pizza. You know, with ham and pineapple? (Known in parts of California as a "sweet pig pizza".)
But the phrase "raw fish" stops me cold. I'm not saying that the food isn't spectacularly wonderful, but I'm a cheeseburger, pizza, chicken, lasagna kind of guy. All the more fish for y'all, I reckon! And bon appetit!
Aside from poké bowls, they also do flatbread pizzas and sandwiches. Most of the dishes are named after the Aqua performers. The Inga sounds interesting: "Huge Baked Bavarian Salted Pretzel with German Brown Mustard, Sliced Prosciutto, Cheese of the Day, French Olives, and Pepperoncini ($18)." Cheese of the Day? Venezuelan Beaver Cheese, perchance?
But enough of that twaddle, we are here for The Bar. There was a moment of doubt as I entered the yard and saw the "Order Here" window on the right, where bar stools used to be. A few steps further took me around the corner and there were tall, brown, backed, wicker stools, but just a narrow shelf and a window. WTF??
However, once past the enclosed food-prep structure, the bar stretches out before you: a nice, light green marble bar top under stretched awnings and tall shady trees.

Colorful paper lanterns hang everywhere. A half-dozen tables sit under umbrellas around the yard.
My barkeep greeted me and provided me with a very cold bottle of Founders All-Day IPA. I handed him a twenty and he brought me back a ten and three ones. I was hoping for four ones – or even a finner -- along with my sawbuck, but it is what it is. (I'm on a crusade to keep the terms "sawbuck" and "finner" alive, you may have noticed.)
I neglected to ask my barkeep his name, but I'll call him Cuzzy because he has his own company called Cuzzy Bubba's Fish Dip (I think). We chatted a lot about that, and how some up-and-comers get shut down when they try to turn their hobby into a business because they don't have a legal kitchen. Trying to make a food product at your house and sell it to the public just ain't gonna fly, apparently. Gotta pass that inspection malarkey.

Big electric fans gave the place a nice breeze. It's probably pretty nice in here in the evening with the soft lights and a mellow buzz.
A few orchids in wooden boxes hang from the branches overhead. Cuzzy told me there were dozens of them not long ago, but the iguanas chowed almost all of them. He said he has stood there chucking ice cubes at them trying to pick them off. I suggested a BB pistol. Cold-hearted mofo, ain't I?
I had just said to Cuzzy, "I haven't been in here since you guys redid it," when another patron walked in. He picked up a menu and said to Cuzzy, "I haven't been in here since you guys redid it."
Cuzzy looked at me like Are you guys a team? I just chuckled and shrugged. It was a pretty cool coincidence though.
I gave Cuz a Barhoppin' Bone Island pen and a souvenir collector's item bottlecap, along with a card. I told him to give me a few days to get this Hop posted. It is much, much easier to go to a bar than it is to write about one.
Soon the manager came to talk business with Cuz, so I gathered up my shtuff, bid him adieu, and moseyed.