Key West Bar Hops
The Keep Calm and Hop On Tour
Hops MacBarley's Ongoing
Key West Bar Boondoggle
Hop #347
Friday, 16 April 2021, 6:26 PM
Crazy Lady (draft) $4.00 HH
This one was overdue. Not as overdue as Fogarty's (#332) was, but still more than a year past due. OK, COVID had something to do with that, but Shooterz is the closest bar to where I work, so you would think that there would've been one day in the last two-plus years that this place has been in business that I would've said, "Hey, I could use a post-work sud to take the edge off." Lord knows, there have been plenty of edges.

Well, as Mel Fisher used to say, "Today's the day!" The phrase worked for him, to the tune of a cool $400,000,000 worth of gold, silver and emeralds found on the sunken wreck Atocha in 1985. For me, the quest was merely a cold beer and a new Hopter. Not as lucrative, but much more readily attained.
I took the three-minute stroll to this, the former site of Grim's Grill, and the easternmost bar on Key West's central artery. There's only one other that bears a Flagler address, and that's Shanna Key (#27), a mile to the west. Other than these two, it's a dry road.
There were about ten people here when I walked in. The place looks like a classic pool hall. Twelve-seat bar to the left, tables spaced along the right half, with another in front. The front-most table on the right is set up for ping-pong, but it looks like a removable top sitting on a pool table.
The other front table looks a fair bit bigger and had 15 white balls in the rack: set up for Russian Pyramid, I think.
That didn't hold my interest for long, though, because those comfortable, padded, round-backed, bar stools were calling my name. I took my seat right in front of the taps and perused the illuminated menu hanging on the wall to the right of the bar.
I chose a Crazy Lady to wet the whistle and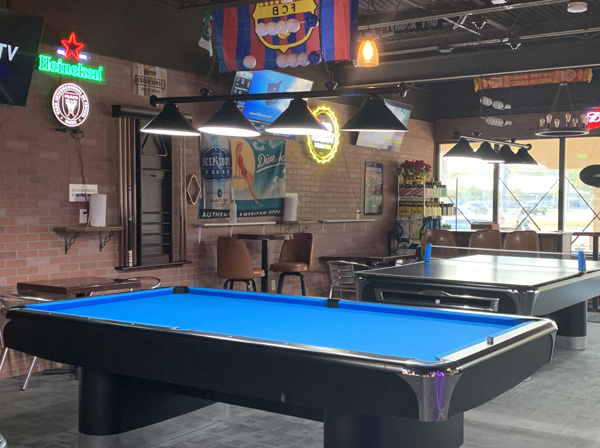 Short Rib Sliders for my very-late lunch. An overdue meal in an overdue bar. Fitting.
From this view, the room looked a little less classic, only because of the wall-to-wall plate glass windows up front. They take away from the closed-in-room atmosphere that I associate with pool halls. A good sundown ought to take care of that, though.
Also, unlike Key West's previous premier pool hall, Stick 'n' Stein (#42), this one does not allow smoking. Tip o' th' hat fo' that.
Speaking of walls, they are red-brick floor-to-ceiling, front-to-back. Love that look. Now that I write that, though, I have to wonder if they are true bricks or faux brickwork. Probably faux. It's a good bet that the walls that separate the units in this little strip mall are not masonry. Fake brick décor would be a lot easier – and way more affordable -- to install. But, it still looks good.
One table was taken. Four people of below average ability were playing. That's a good thing about pool. As long as you're all about the same level, you can have good fun with it. It involves so little work. Your heart rate never has to go up at all. You don't even have to walk anywhere.

The table nearest my chair was almost unoccupied. No one was playing, and there was a cluster of balls near one end of the table. One guy was seated on the far side of it. He wore a black t-shirt, a white hat, and had his own pool cue case open beside him on the small side table. A black cue rested against it.
All you really need to know is that he had is own cue and case. Unless he had a friend on his way, I suspect he'd be practicing solo this evening.
I certainly was not about to give him a "hey, up for a game?"
My food arrived, so the rest of the room faded into irrelevance. Sliders look like small burger-style sandwiches, right? The cheeseburger sliders I've gotten at Jack Flats (#48) were just mini-burgs in mini-buns … with a small mountain of pickle slices.
These Short Rib Sliders looked, um, different. As the barkeep brought them closer, they looked quite tall, and had a really weird shape on top.
It wasn't until he set them in front of me that I figured it out. From the bottom up: bun, thick slice of red onion, thick slice of tomato -- no, it's pronounced "tomato" – thick marinated short rib (boneless, of course), bun, and a skewered and halved dill pickle crowning it all. Wow.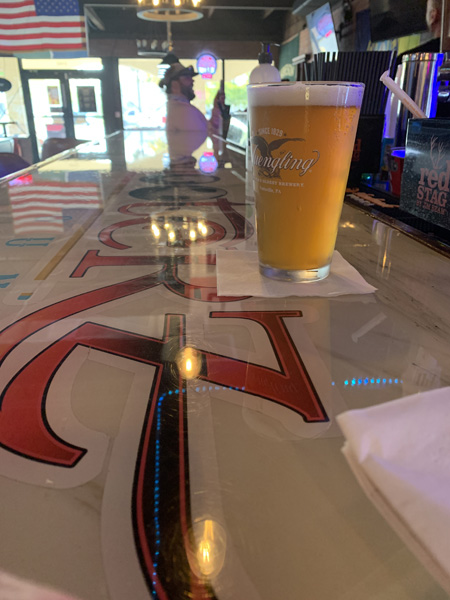 But, me being me, with my boring palate, they needn't have gone through all the bother. I withdrew the skewer and set the dills aside. I turned the slider over, pulled off the bottom bun and took away the onion and tomato. Then I closed the bun back up, flipped it back over and proclaimed it Ready To Eat. Bread and meat. Yummmm.

It was freaking gooood too! Bun was really fresh and the meat was hot and juicy, with a delicious marinade. Each bite was so enjoyable; you could feel the sinews separate -- your classic "fall-off-the-bone" tender, but, well, it was already off the bone.
I haven't mentioned the bartop yet. Light wood with a thick clear coat, and a six-foot-long full-color logo in the center. Very well done. Purely by coincidence had I parked myself right in front of that Z. Those of us with that coolest-of-all-letters in our names appreciate opportunities to revel in it. =)
It's a cool logo overall, iddinit? With the 8-ball and the soccer ball representing games played and games watched. And that Z with the extra-long tail bookending the lead-in swirl on the S. And most of the word underlined by a pool cue. And that metallic shimmer effect running through the middle. Quite well done. Kudos and huzzahs to the graphic artist who pulled it together. Bravo!